ask about discounted packages for our OVDA members! It pays to be a member!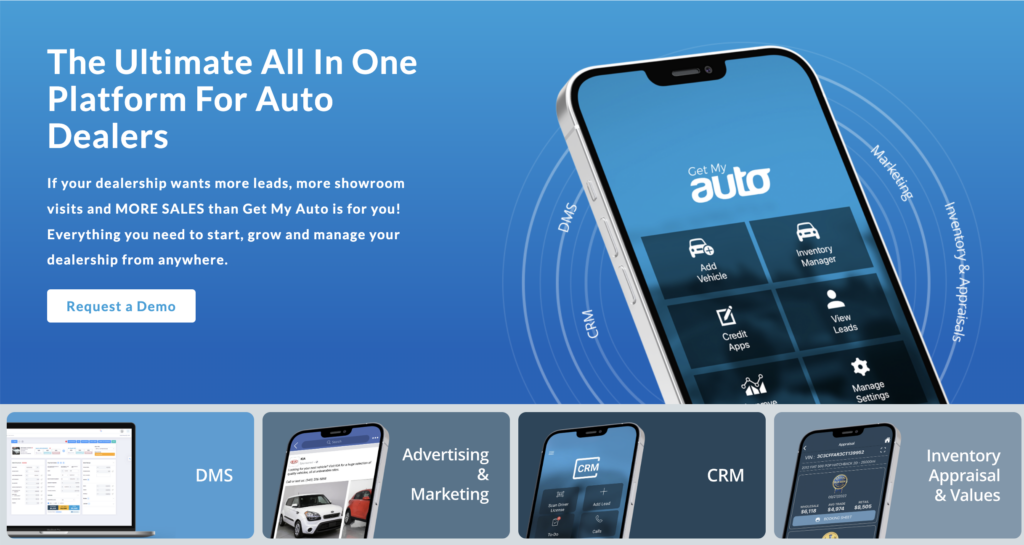 Get My Auto's DMS+ is the complete dealership management system you need to streamline your sales, finance, and admin processes. Our cloud-based platform is tailored to handle retail and wholesale transactions of all types, and comes equipped with features like Desking, F&I, Contracts & Forms, Credit Checks, and more. Simplify and optimize your dealership operations with DMS+.
Get My Auto's customer relationship management (CRM) system is designed to help dealerships streamline their sales and marketing efforts. With features such as customizable workflows, automated email and SMS campaigns, and advanced analytics, our CRM makes it easy to track and nurture leads, close deals, and build long-lasting customer relationships. Whether you're a single store operation or a multi-location dealership, our CRM has the tools you need to succeed.
Maximize your dealership's online presence with Get My Auto's Vehicle Marketing System. From mobile-optimized websites and automated Craigslist postings to social media exposure on platforms like Facebook and Instagram, our comprehensive marketing tools will help you generate leads and expose your inventory to a wider audience. Plus, with BDC training and more, you'll have everything you need to manage and market your dealership online.



Get My Auto's advanced inventory management system streamlines the process of tracking and appraising your dealership's vehicles. With real-time market analysis and powerful integrations, VIN+ makes it easy to make informed decisions about your inventory. With features like VIN scanning and access to MMR, J.D. Power, KBB, and AutoCheck data, you'll have everything you need to get the most out of your inventory.
Access from anywhere!!
Available on iPhone, iPad, Mac, Android, Windows and the Web, Get My Auto works seamlessly across all major devices to help you sell more cars.