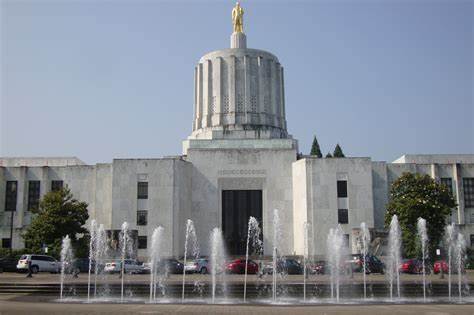 By Darrell W. Fuller, OVDA/OPSA Lobbyist
The 82nd Assembly of the Oregon Legislature began on January 9, 2023. The Constitution requires them to finish by June 25th. But the session appears to have ended in early May when Senate Republicans started a "work stoppage" or strike. By refusing to attend the daily floor sessions to vote on potential legislation, Senate Republicans have brought the Capitol to a screeching halt. Democrats, who have a commanding majority in the Senate (and the House), do not have enough members to constitute a quorum to do business. So, when the Republicans walk out, the Democrats can't do anything.
At this point, it appears the Republicans will stay out until June 25th, forcing the session to end with no budget and hundreds of bills dying without final action on the Senate floor. Lacking a budget, the Legislature will need to return at some point to pass a budget – the only constitutional obligation of the Assembly. Earlier this year, the Legislature did pass a Continuing Resolution which allows the government to continue operating without a new budget (the fiscal year begins July 1st) until September 30th.
I don't have any special "insider" information, but the consensus right now appears to be that the Governor will call the Legislature back for a Special Session, perhaps as early as June 26th or 27th. At this point, they will quickly pass five or six large budget packages, which also include a bunch of statutory changes. Typically, budgets don't include statutory changes, but they are cobbling together the budget with bills that have support from Democrats and Republicans. These massive bills can all be adopted by the Senate and House in a single day at the Capitol.
Nothing is certain. But that is what we are hearing.
OVDA/OPSA PRIORITY BILLS
On behalf of OVDA/OPSA, I follow bills which will, or may, have an impact on vehicle dealers and customers. I also track bills with a general impact on business in Oregon. Included are PDFs of both the industry-specific bills I am tracking, and the general business bills I am tracking. Here is some information on just a couple of the major bills of interest:
House Bill 2790 / Bill Information
The Direct Department of Transportation to provide two days' notice to vehicle dealers and dismantlers before inspecting records unless department is responding to complaint.
This bill was introduced at the request of OVDA/OPSA
In the Joint Transportation Committee
At OVDA's urging, DMV has already established this as a new policy for vehicle dealers and is working on a similar policy for dismantlers.
House Bill 2801 / Bill Information
Prohibits seller from selling or leasing motor vehicle if sale or lease is contingent upon lender's agreement to purchase retail installment contract or lease agreement. Provides that if seller sells retail installment contract or lease agreement to lender, lender must provide final approval of funding within 14 days after buyer takes possession of motor vehicle. Provides that if lender does not agree to buy retail installment contract or lease agreement or agrees to buy on terms other than exact terms that seller and buyer agreed to, seller must retain retail installment contract or lease agreement, must notify buyer of seller's retention and may not thereafter sell, assign, transfer or delegate any of the benefits, duties or obligations of the contract or agreement. Provides that seller's failure to comply with provisions of Act deprives seller of right to collect payment due under contract or agreement and right to repossess motor vehicle.
In the House Committee on Business and Labor
OVDA was successful in killing this bill for 2023.
House Bill 2818 / Bill Information
Expands definition of "consumer contract" to include purchases of used motor vehicles used primarily for personal, family or household purposes. Allows consumer to revoke provision of consumer contract that requires consumer to assert claim against other party to contract in forum that is not in this state. Provides that if provision in contract requires arbitration in forum that is not in this state, sole effect of revocation is that proceeding that requires or allows attendance by consumer must be conducted in this state. Provides that party seeking to enforce revoked provision is liable for reasonable attorney fees incurred by consumer. Expands offense of acting as vehicle dealer without certificate to include individuals who act as agents of Department of Transportation without authorization. Establishes civil cause of action for improper sale of vehicle.
In the House Committee on Business and Labor
This bill is dead for 2023.
House Bill 2819 / Bill Information
Permits vehicle dealer to issue temporary registration permits for motor vehicles that do not have proof of compliance with pollution control equipment requirements. Requires dealer to give written notice to purchaser that Department of Transportation will not issue stickers, registration or plates unless proof of compliance is provided. Modifies trip permit issuance by Department of Transportation.
In the House Committee on Climate Energy and Environment
(The description above buries the lead, a portion of this bill will extend RV trip permits to 30 days, so RV customers can stay in Oregon after their purchase.)
This bill is dead for 2023.
House Bill 3158 / Bill Information
Imposes excise tax on retail sale of tires, privilege tax for engaging in business of providing nonroad diesel equipment, tax on use in Oregon of nonroad diesel equipment purchased out of state at retail, heavy equipment rental tax on rentals of nonroad diesel equipment, privilege tax on heavy-duty vehicles and license tax on dyed diesel for transfer to Clean Diesel Engine Fund. Increases cap on grants or loans awarded from Clean Diesel Engine Fund for repower of nonroad diesel engine to 50 percent of certified costs. Directs Environmental Quality Commission to establish preference for grants and loans from fund for replacements, repowers or retrofits necessary to satisfy certain title and registration requirements for heavy- or medium-duty trucks powered by diesel engines. Takes effect on 91st day following adjournment sine die.
In the House Committee on Climate Energy and Environment
This bill APPEARS to be dead for this session. OVDA was part of a large coalition of business groups opposing it.
Senate Bill 525 / Bill Summary
Directs Environmental Quality Commission to adopt standards prohibiting engine exhaust and evaporative emissions from new small nonroad engines beginning January 1, 2026, unless a later date is required by federal Clean Air Act. Directs Department of Environmental Quality to establish program to provide incentives for purchase of zero-emission small nonroad equipment. Takes effect on 91st day following adjournment sine die.
This bill APPEARS to be dead for 2023. OVDA provided testimony in opposition.
Darrell Fuller has been a lobbyist for various sectors of the auto industry since 1996. He began representing NATA in 2006. You can reach him at fuller_darrell@yahoo.com, or at 971-388-1786.