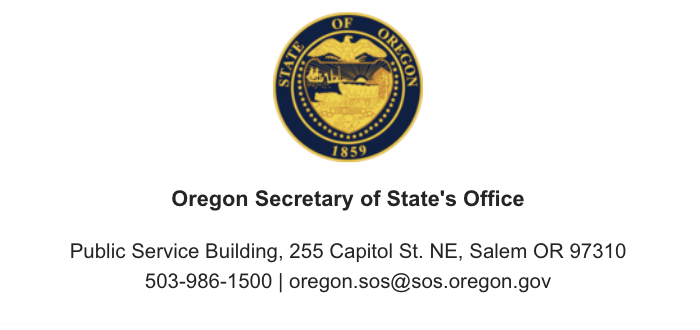 Dear Oregonians,
The 2023 Legislative Session is complete, and several new laws affecting democracy, the business community and public records will alter our work in significant ways. Overall, the SoS budget increased by 6%, which reflects the critically important work that's done by the professional staff at this agency. Let's take a look at what's new.
Ranked Choice Voting
Legislators passed a legislative referral this year that could change the way Oregonians cast their ballots. The referral will ask voters to consider Ranked Choice Voting, a system in which voters rank candidates in order of preference instead of casting a single vote for their preferred candidate. The question will be on the November 2024 ballot. If approved by voters, the new voting system will start in 2028.
Expanding Automatic Voter Registration
Legislators approved HB 2107-A, expanding Oregon's automatic voter registration system to the Oregon Health Plan. Thanks to Oregon's landmark Motor Voter Law, about 93% of eligible voters are registered to vote today. That means around 200,000 eligible voters are not. A collaboration between the Oregon Secretary of State's office and the Department of Human Services found that 85% (171,000 people) of this eligible but unregistered population are on the Oregon Health Plan. Expanding automatic voter registration to OHP will help us provide these eligible voters with the option to participate in their democracy. If the federal government gives the green light to Oregon and other states seeking to make this expansion, the law will take effect on June 1, 2026.
Including Native Voices in Public Records
Back in April legislators passed HB 2112, the Adding Native Voices to Public Records Law. The new law, proposed by the State Archives, will ensure that native perspectives are part of the decision-making process when agencies decide how long to keep a public record. You can read more about this important change in our testimony supporting the bill.
Cuts and Investments in Election Funding
This legislative session brought both cuts and investments to elections administration in Oregon.
Legislative funding for programs designed to combat false election information was reduced from $370,000 to $150,000. With election workers bracing for a challenging 2024 election season, states like Washington, Colorado and California are making significant investments in this area.
Legislators made investments in other areas, adding positions to the Secretary of State's Elections Division to support voting systems, voters' pamphlet translation and campaign finance investigations. These positions will provide much-needed capacity at the state level.
Additionally, legislators passed SB 166, which made several important technical fixes to state election laws and enshrined the right to cast a secret ballot into state law.
Investing in Oregon's Business and Nonprofit Communities
Legislators are adding much-needed positions to the Oregon Corporation Division, which has dealt with backlogs and slow response times ever since the pandemic. The new positions will allow the agency to move forward on modernization efforts to better serve Oregonians seeking to register a business or nonprofit, update registrations and retrieve important records.
Warmly,
Cheryl Myers
Acting Secretary of State
| | | |
| --- | --- | --- |
| | | Acting Secretary of State Cheryl Myers' prior public service roles include Director of Economic & Business Equity in the Governor's Office, Chief of Staff for the Higher Education Commission and as Operations & Engagement Director for Educator Advancement in the Chief Education Office and 8 years as an elected school board member. Her biography is available on the SOS website. |